Tribute to Mr. Thomas G. Flanagan, S.C.
June 30, 1928 to November 18, 2002
It is with deep sadness that the Military Police Complaints Commission learned of the death of Mr. Thomas G. Flanagan, S.C., member of the Commission and former Chief of Police of the City of Ottawa. We particularly wish to acknowledge his exceptional contribution to the implementation of the Commission since his appointment in July 1999. The Commission has always been able to count on Mr. Flanagan's support and has benefited greatly from his vast policing experience, his sound advice and his wisdom.
Invaluable colleague and co-worker, he participated actively in the work of the Commission as a part-time member. He knew how to face the many challenges of our Commission. His remarkable sense of humour and spirit of camaraderie will be extremely missed.
The staff of the Commission join me in expressing my deepest sympathy to the Flanagan family for their loss.
Louise Cobetto
Chairperson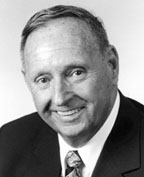 Biography
Thomas G. Flanagan is a veteran of the Ottawa Police Service. He joined the Force in May 1951 and held progressively more senior positions with the Service until his appointment as Chief of Police on July 1, 1989, a position he held until his retirement on March 31, 1993. Upon his retirement as Chief of Police, the City of Ottawa named the Ottawa Police headquarters the Thomas G. Flanagan Building. Following his retirement, and at the request of the Police Services Board, Mr. Flanagan was sworn in as a special advisor to the Board until December 31, 1993. Mr. Flanagan was special advisor to Beretta USA Corp. on law enforcement and criminal justice, and an associate with Price Waterhouse Management Consultants prior to his appointment to the Commission. Mr. Flanagan is a life member of the Canadian and Ontario Associations of Chiefs of Police, an active member of the International Association of Chiefs of Police and a former member of the Board of the Ottawa University Centre of Criminology. Active in the community, Mr. Flanagan is a co-founder of Operation Go Home and was also a founding member of the Board of Directors of the Ottawa Community Service Order Committee. Mr. Flanagan was awarded several decorations such as the Star of Courage and the Queen's Commendation for Brave Conduct. In July 1999, Mr Flanagan was appointed member of the Military Police Complaints Commission where he worked until his death on November 18, 2002.